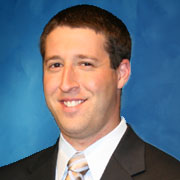 Dan Pearlman grew up in Cincinnati, Ohio, where he loved to cheer on the Reds and Bengals. He went to as many games as he could. As a child, he says that he would watch the nightly news and longed to be part of the process that keeps the community informed.
Dan graduated from American University with degrees in Broadcast Journalism and Political Science. During college, he interned for two summers at WCPO in Cincinnati. After school, he became a production assistant and field producer for WRC in Washington, DC so it was quite a change for him to move to Lincoln. "It's a big change coming here from Washington DC, but I like how it's much quieter and the people here are so nice."
As a reporter for Channel 8 Eyewitness News, Dan says, "I look forward to getting out in the field and meeting new people everyday."
In his spare time, Dan likes to travel, watch sports and spend time with his friends.