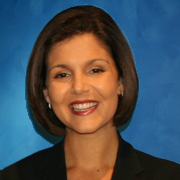 Lauren Silverman has such a wide range of interests, she had difficulty choosing a college major-she was stuck between journalism, musical theatre, and microbiology. " I tend to be interested in everything…and I've always been someone who wants to know everything that's going on in the world", Lauren says about her variety of interests. She finally chose her career path and graduated Summa Cum Laude with a Bachelor's of Arts degree in Mass Communications from UCLA. Lauren explains, "Broadcast news is the perfect combination of so many things I love...it has elements of performance…I get to do a lot of writing…plus, I get to be involved in the community."
One could say that Lauren actually started her broadcasting career at the tender age of 12 when she anchored the news for her middle school. She also says that she was one of those kids who was always putting on a show for her family and friends. Her middle school experience notwithstanding, her first professional job was in Monrovia, CA, where she anchored, produced and reported for a weekly community news program called "Monrovia Spotlight". Lauren joined Channel 8 Eyewitness News in March of 2004 as a reporter and has also served as substitute anchor and producer. In June of 2005, she was promoted to weeknight co-anchor of the Channel 8 Eyewitness News.
Lauren and her husband Paul welcomed their first baby in February of 2008. She says being a mom is the best job in the world!
In the little spare time she has as a new mother, Lauren likes going to the theatre, reading and riding her bike on Lincoln's bike trails. She loves to listen to music and claims to have a very huge(but obscure) collection of Broadway CDs. She enjoys Lincoln and says, " …the people are some of the friendliest I've ever come across."
You can watch Lauren Silverman weeknights at 5pm, 6pm and 10pm on the Channel 8 Eyewitness News