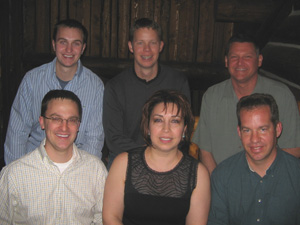 Dr. Chris MacKnight: "Doctor Chris" has lived in Lincoln for over 40 years. He graduated from Lincoln East High School in 1975 before attending Nebraska Wesleyan. Chris received his D.D.S. from the University Of Nebraska Dental College where he attended from 1978 to 1982. Chris and his wife Robin have two children, Teagan and Trey. Chris enjoys spending time with his family, skiing (both water and snow), scuba diving, and playing golf. Chris opened Pine Ridge Dental in 1989 and most enjoys working with people-- both his patients and his co-workers.
Dr. Tom Tetrick: "Doctor Tom" grew up on a farm outside Omaha, Nebraska. He graduated from Millard High School in 1981, the University of Nebraska (B.S., Biology) in 1985, and received his D.D.S. from the Univ. of Nebraska Medical Center College of Dentistry in 1989. Tom and his wife Jill (Pius X, UNL) have four children: Jared, Elise (Elly), Joel and Davis. Tom enjoys outdoor activities including golf, rollerblading, swimming with his kids, and gardening. He is also active in home brewing, and is an avid Husker fan for all sports. Tom has been with Pine Ridge Dental since its inception in 1989 and enjoys the friendships made with his partners, associations with patients, and serving the community of Lincoln.
Dr. Fariba Vakilzadian: "Dr. Fariba" grew up in Logan, Utah and moved to Lincoln, Nebraska in 1985. She and her husband have lived in Lincoln for 24 years and have two children. Dr. Fariba received her Bachelor of Science degree in Biology from the University Of Nebraska, in 1987. She received her DDS degree from the University Of Nebraska Medical Center of Dentistry, in 1992. Dr. Fariba has been part of the Pine Ridge Dental team for 17 years. Dr. Fariba enjoys reading and attending Husker Football games.
Dr. Rich Nolte: "Dr. Rich" graduated from Lincoln Southeast High School in 1991, Texas A & M University (Bachelor of Science, Biomedical Science) in 1995, and the University Of Nebraska Medical Center College Of Dentistry in 1999. Rich is married to Vicki Vopalensky of North Bend. Vicki earned a Bachelor of Science and Masters in Business Administration from the University of Nebraska, worked as a Certified Public Accountant and now stays at home with their two sons Chas and Scott. Dr. Nolte is an Invisalign certified provider and a member of the American Orthodontic Society, the American Dental Association. Rich has served passionately on the Board of Directors for Friendship Home since 2006 and is Board President -elect for 2010; Friendship Home provides safe shelter and services for victims of domestic abuse and their children. Dr. Rich also enjoys coaching his son Chas' soccer team. In 2008 Dr. Nolte was awarded the "VIP Award" from Ameritas Group Dental, voted on by Ameritas-insured patients nation-wide. Rich enjoys golf, scuba diving, competitive swimming, travel, and spending time with his family. Dr. Rich joined Pine Ridge Dental in June 1999, and enjoys providing comfortable, quality dental care while working with a fantastic staff.
Dr. Josh King: "Dr. Josh" graduated from Grand Island Central Catholic in 1999, University
of Nebraska Omaha 2003 (B.S. Biotechnology), and the University of Nebraska Medical Center
College of Dentistry in 2007. Josh is married to Renee and has a son, James, who was born in
2008. Josh enjoys spending time with his family, traveling, and golf. He is an avid Husker fan and Chicago Cubs fan.
Dr. Brent Murphy: "Dr. Brent" is the most recent dentist to join Pine Ridge Dental. He is originally from Utica, NE. Dr. Brent went to Wayne State College, earning a degree in Health Sciences before attending UNMC College of Dentistry following graduation from UNMC in 2007 with a Doctorate of Dental Surgery. He practiced dentistry at a clinic in Omaha for a year before moving back to Lincoln to join the wonderful staff at Pine Ridge Dental in July 2008. He will be getting married in August 2009 and enjoys hunting, fishing and cheering on the huskers.
Dental Hygienists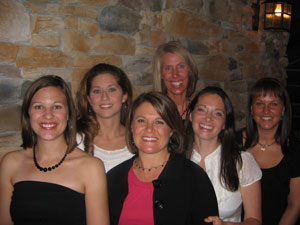 Dental Assistants
Office Personnel