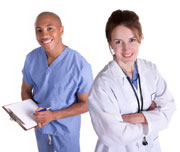 Dr. Samani's Education:
Ohio State University Hospitals & Clinics

Columbus Ohio
General Surgery internship 1989-1990
Orthopaedic Surgery Residency 1990-1994
Preceptorship Shoulder Reconstruction 1994

University of Iowa College of Medicine

Iowa City, Iowa
1984-1989
M.D. May 1989

University of Nebraska- Lincoln

Lincoln, NE
1980-1984
B.S. Microbiology, with Highest Distinction
May 1984
Background:
Date of Birth: July 2, 1961
Birthplace: Omaha, NE
Activities he enjoys: Boating, running, traveling, flying, reading politics especially presidential history. Spending time with his nieces and nephews.
Title:
Mid- American Center for Orthopaedics and Sports Medicine
Address:
2222 South 16th st. STE 220
Lincoln, NE 68502
Medical Licensure:
Iowa, Ohio, Nebraska, Missouri
Honors and Awards:
Senior Honors Research Program- University of Iowa College of Medicine
Phi Beta Kappa
Regent's Scholar- University of Nebraska
Chancellor's Scholar- University of Nebraska
Graduate with highest Distinction- Summa Cum Laude, University of Nebraska
Honors Microbiology Research Program- University of Nebraska
Current Places of practice as of July 2009:
1. Central City

Phone number: 308-946-3015

2. Bryan LGH West Hospital

Phone number 489-4900
Fax number- 489-3900
Lincoln, NE location (main)
Located in the medical plaza (tower A)
2222 South 16th address

3. Pawnee City

Pawnee County Memorial Hospita
600 'I' street 68420
Phone Number: 402-852-2311

4. Genoa

Genoa Community hospital
706 Ewing , Genoa, NE 68640
Phone number: 402-993-2283