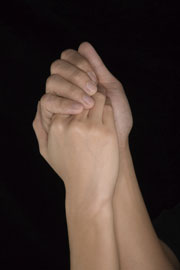 Home Instructions After Hand/Wrist Surgery
1. Do not remove your dressing/splint.
2. If you note drainage through the dressing, call Dr. Samani.
3. Do not eat greasy or heavy foods the evening of your surgery. Avoid cheese and dairy products. Try to eat liquids, such as soup, jello and juice.
4. Be sure to take your pain medicine as scheduled. Plan to take your first pain pills when arriving home from the hospital.
5. Elevate your hand/wrist to avoid excessive swelling and to relieve pain. Try to elevate hand/wrist on pillows for the next 48 hours.
6. Fevers: It is not unusual to have slight temperature elevations (less than 101 degrees), the day after surgery. If your temperature rises over 101.5 degrees, call Dr. Samani.
7. Things to watch out for:
Excessive pain not controlled by pain medication and elevation.
Fingers cool to touch or blue in color.
Numbness or "pins and needles" feeling to fingers more then 8 hours after surgery.
Severe swelling fingers or hand.
If you note the above problems, call Dr. Samani at once.
8. Follow-up appointment: Call the office at 402-489-4900, to arrange appointment in 8-10 days.