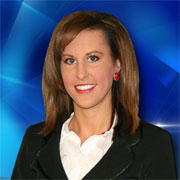 Kali Nicole grew up in Billings Montana. One could say that she got her start in front of the camera in 7th grade when she worked on her junior high newscast. " I would dress as John Stossel and do a "Give Me A Break" segment...minus the mustache, of course", Kali says.
She chose broadcasting over a law because she says, "I have far too much personality for law school". She enrolled at Texas A&M, where she graduated with a degree in Communications and Journalism. Kali says that she chose broadcasting because it provides her with the prefect opportunity to combine her proficiencies in writing, public speaking and her passion for meeting new people.
Kali came to Lincoln to intern with Channel 8 Eyewitness News. Before coming to Channel 8 KLKN-TV, she also interned at KTVQ in Billings, WOAI in San Antonio and worked for KBTX in College Station,Texas. Kalie anchors the Channel 8 Eyewitness News on Saturdays and Sundays.
Kali has been dancing since she was three years old and enjoys choreographing routines for young dancers and coaching cheerleading. She also loves to shop, talk on the phone and take long walks with friends. She claims that she knows every state fact about Montana and she says, "I'm the proudest member of the fightin' Texas Aggie Class of 2009".