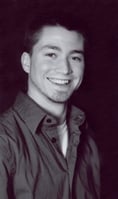 Ryan Regelean
Ryan Regelean lost control of his motorcycle and died in an accident Friday night. Now his friends and family are coming to terms with their loss.
His father, Russ Regelean, spoke with Channel 8 Eyewitness News. "When I got the phone call, it was just like,' this isn't real. This isn't happening.' You just lose it."
Ryan was riding his bike just south of 27th and Old Cheney when he lost control and hit a retaining wall. A makeshift memorial marks the spot where it happened.
The 2002 Lincoln East graduate was on his way home from the Southpointe Panera. He was a manager there and had dreams of one day opening his own restaurant. Russ says, "he was very good at what he did. Everybody liked what he did. He'd come over and he'd make people feel comfortable."
Ryan bought a house with his girlfriend last fall. Russ says, since the accident, she has a hard time being there. "She spends a lot of time over at the mortuary right now. She doesn't want to let him go."
For that matter, neither does Russ. "I just love him to death. I'm going to miss him. I'm totally going to miss him."
Russ says Ryan was always the one to keep things positive and if Ryan saw him now, he'd walk into the room with his signature line, "hey pops, keep your head up."
Ryan's funeral is Wednesday morning at 10:30 at Sheridan Lutheran Church in Lincoln.