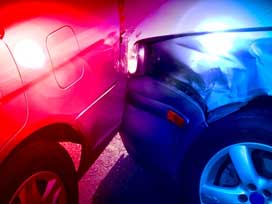 A three car accident sends multiple people to the hospital.
Now lincoln police are investigating how it happened. Just before five tonight, Lincoln Fire and Rescue responded to a rescue alarm at First and Cornhusker. The driver of a silver car ran a red light, hitting two other vehicles. Lincoln Police Officer Brad Hulse says, "initially talking to the driver of the silver car she made a statement that she looked up, saw a red light, saw a car coming across, hit the brakes, couldn't stop in time, and then due to the collision the accelerator got stuck." The silver car ended up crossing the median.
All four passengers inside and the driver of the other sedan were taken to the hospital. Their injuries are not life threatening.