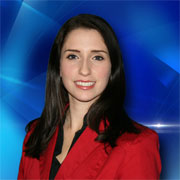 Ashley's home town is Orlando, FL, home of Disney World, Universal Studios and water parks. Of course you can imagine that she would say the going to the theme parks and the water parks were the highlights of her childhood memories. And who could blame her? She also grew up watching her broadcasting idol, Peter Jennings on ABC's World News Tonight and found him to be so inspiring. "His passion was so apparent, and that it inspired me to go into broadcasting," Ashley says.
Ashley attended the University of Central Florida, where she reported for the college news program, UCF Knightly News, and interned at WKMG and WFTV in Orlando. She is a positive and upbeat person, which helped her land her first job as a photojournalist with Channel 8 Eyewitness News. Asked what she would like the viewers to know about her, Ashley says, "...that I love meeting new people...I also genuinely love what I do and if there is any way I can help out, I'm happy to do it".
More than anything, she loves spending her free time with family, friends and her "wonderful" boyfriend. She also enjoys working out, hiking, going to the beach, camping, canoeing and being outdoors.