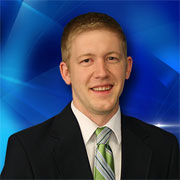 Cole is a Lincoln, Nebraska man through and through. Born and raised in Lincoln, Cole has fond memories of roaming the Morrill Hall exhibits, and celebrating the 4th of July in Seward at his grandparents.
"People always told me I had a good voice and once I got into broadcasting classes, I knew it was for me", Cole remembers. He went to UNL, where he worked on campus at Studio 201 and KRNU. While in school he interned at another Lincoln television station and worked with students in India at the Indian Media Institute.
After graduation, Cole went to work at Channel 8 KLKN-TV as a photojournalist for the Channel 8 Eyewitness News. "I love the fast paced nature of the job...you never know when news is going to break...everyday offers up something new," says Cole.
He is a self proclaimed adrenaline junky. He loves thrill rides and trying new things. He hopes to be able to sky dive and swim with the sharks one day. His ultimate goal is to become a foreign correspondent for a broadcast news organization. He loves to travel and the outdoors. He follows the Denver professional teams, spends time with his family friends and his dog, Bogart.