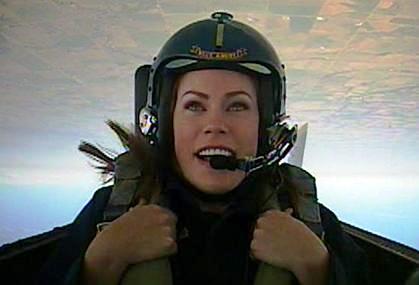 By: Vanessa Brown
vbrown@klkntv.com
Channel 8's own Vanessa Brown takes a ride along with the Blue Angels.
This weekend you'll have the chance to see the Guardians of Freedom Air Show here in Lincoln. But have you ever wondered what it's like to fly with the Blue Angels in one of their $18 million jets? Vanessa was lucky enough to experience that flight Wednesday.
But before pulling 5 G's, Vanessa's day started with training. Flying with the Blue Angels is the opportunity of a lifetime, but knowing you're about to flirt with the speed of sound in an F/A 18 Hornet can be terrifying. Especially when it goes zero to 500 feet in one second at takeoff.
After some advice from the pilot, and some Top Gun moments, Vanessa was ready to strap in.
Incredible pressure, while climbing at speeds up to 650 miles per hour.. Vanessa says she gave it her best shot and didn't pass out. But, after some barrel rolls, her stomach rolled.
The pilot.. A–k–a.. Blue Angel Number 7.. Took her for a slow ride to feel negative G's. They dropped down to 120 miles per hour, then sped back up. After 45 minutes, Vanessa was ready to get back on land.
The Guardians of Freedom air show runs both Saturday and Sunday at the Lincoln Airport. Gates open at 9:30 a.m. on both days. The show runs from 11 a.m. to 5 p.m.