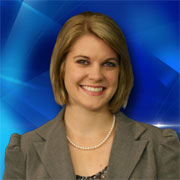 Rachael is from the western New York community of York. "I grew up braving the insane lake effect winters of western New York", Rachael recalls. She also said that watching the weather was her favorite part of local news and she always wanted to be the person sent out to cover a snowstorm.
Rachael started her career path at Iowa State University where she received a degree in meteorology. Before coming to Channel 8 KLKN-TV, she interned at WOI-TV in Des Moines and now that she is the weekend meteorologist for Channel 8 Eyewitness News. Rachael will have many opportunities to cover our Midwestern snowstorms.
Rachael loves country music, reading, baking (she's a self-taught and aspiring pastry chef), barefoot running and volleyball. Rachael says, "The Midwest is my favorite part of the country and I'm happy to start my career here".