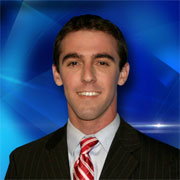 Ian calls Boca Raton, FL home, so the thought of moving to Nebraska was a little scary to him, at first. "I always wondered how life in Nebraska would feel, but it has exceeded every expectation imaginable. The people are so nice and it's very nice to see four seasons, especially fall". His family loves to travel. He has been to 39 states and has been to 22 of the 30 major league baseball stadiums.
Ian graduated with a bachelor's degree in broadcast journalism from the University of Miami. Before coming to Channel 8 Eyewitness News, he interned at ESPN in Bristol, CT and at WOR radio in New York City. "My job is the greatest job in the world, because I get to connect with regular people on a daily basis and tell stories that matter to them and affect their lives. There is no more rewarding feeling than that". Ian says that he always learning and seeing new things and he even learned about harvesting crops, which was something very new to him. In 2012, Ian joined the Channel 8 Eyewitness News Sports Team.

He is a sports enthusiast and has a dog and believe it or not, his name is Spot.