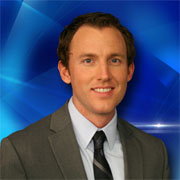 Matt grew up in the Western Iowa town of Glenwood. Growing up that close to Nebraska, he and his family went to a lot of Husker football and baseball games and was and still is an annual spectator at the College World Series. "It's hard to think of anything I did growing up that didn't involve sports", Matt recalls.
He knew that he probably would not be able to make a living while playing sports, but he knew he wanted to do something sports related. Matt graduated from the University of Missouri with a degree in journalism, where he worked at KOMU. Before coming to Channel 8 KLKN-TV, Matt was a sports reporter and sports anchor for KTKA in Topeka. As the weekend sports anchor for the Channel 8 Eyewitness News Matt gets to gets to "tell the stories of athletes who inspire, intrigue and perform at high levels". "I always tell people the best part of my job is standing on the sidelines of a major sporting event, looking at the crowd, and knowing there's tens of thousands of people who would trade spots with me," Matt adds, "That feeling never gets old".
In his free time, he enjoys watching sports, reading, watching television, spending time with family and friends and likes to be outdoors.