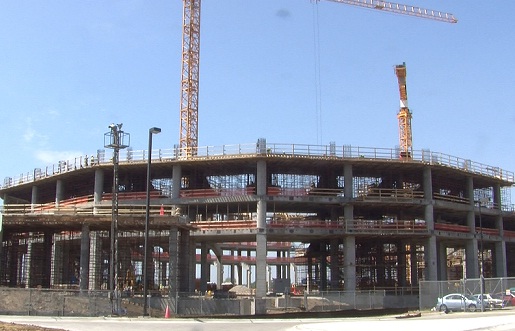 The City of Lincoln and SMG have reached an agreement for the operation of the new Pinnacle Bank Arena. SMG currently manages and operates Pershing Center in Lincoln.
"This new agreement goes beyond just the operation of the new arena," said Mayor Beutler. "We have tapped into the entertainment programming expertise of Tom Lorenz and SMG and have added some additional City venues in this contract for SMG to manage for us."
In addition to events at the Pinewood Bowl in Pioneers Park, SMG will manage and program the festival space located northwest of the new arena.
Mayor Beutler thanked Tom Lorenz, General Manager of the Pershing Center, for the valuable assistance he and SMG provided the City during the early stages of the process. "Their input and insight into the design and operational issues was invaluable," said Beutler. "You certainly want to make sure the elephants fit through the doors."
SMG will be responsible for booking, operations, maintenance, food service, recycling, promotion, website, ticketing and some of the parking.
"SMG is honored to be chosen to manage Lincoln's premier entertainment venue," said Lorenz. "We are confident that SMG's leadership position in the facility management industry and our local staff's excellent relationship with City and University staff will result in a successful and well operated arena that will be a source of pride for Lincoln and southeast Nebraska."