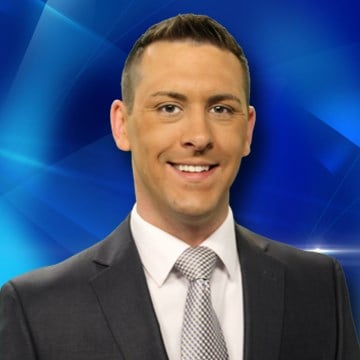 Sean McMullen had his eye on the weather at an early age. "I would stand on the roof of our backyard shed during severe weather trying to get as close to the storms as I could", he recalls. Probably not a safe thing, but it shows his passion for weather. He graduated from Northwest High School in Omaha, NE and attended the University of Nebraska-Lincoln, where he received his degree in Meteorology.
Sean has been a storm chaser for the website twisterchasers.com and for KETV in Omaha, where he also interned in the weather department. Before joining the Channel 8 Eyewitness News as the morning and midday meteorologist, he was the weekend meteorologist at NTV in Kearney, NE. "I've always dreamed of bringing the weather to the public, whether good or bad", he says. He wants to use his skills he learned as a storm chaser to better warn and educate viewers during times of weather emergencies.
Besides storm chasing with his wife, he plays golf, enjoys routing for the Huskers loves to relax while catching the latest movie.