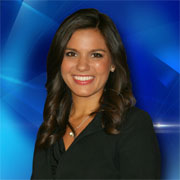 Sabrina Ahmed's passion for television broadcasting started when she first watched her mom, who was the Iowa Lottery Lady do the live Lottery Show. Since her first time appearing on TV with her mother, she knew she was destined for TV reporting. That was when she was 9, but when it was time, she enrolled at the University of Kansas where she graduated with a degree in broadcast journalism with a minor in economics.
Sabrina is an Iowan, born and raised, and cherishes the family values with which she was raised. She brings those values and a desire to meet people and tell their stories to the Channel 8 Eyewitness News viewers. She wants to be the person who reaches viewers with information they would not get anywhere else. Her goal is to change at least one person's life as a result of her reporting or community involvement.
She is extremely family oriented and has quite a large family. In her spare time she likes to read, ski, ride horses and spend time with friends. She also likes to volunteer and joined the Junior League of Lincoln.