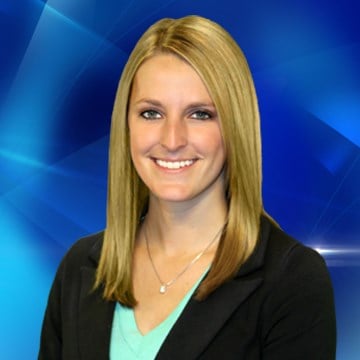 Kayla was born and raised a Lincolnite and a die-hard Husker Fan. She has dedicated her Saturdays to the Big Red for as long as she can remember. She also remembers the Nebraska storms she and her dad would watch and chase. It was her passion for weather which led her to study meteorology at UNL.
While studying meteorology and broadcast journalism, she interned at KUSA in Denver and Channel 8 KLKN-TV. After graduating, she decided to stay in Lincoln and put her education to good use reporting for Channel 8 Eyewitness News. She has always been fascinated and interested in the weather and news. "I love meeting and talking with people", Kayla says. She also finds that life inside a newsroom to be very exciting and glamorous. "Everyday on the job is something different", she adds.
Kayla joined the Channel 8 Eyewitness News Weather Team in September of 2013. You can see Meteorologist Kayla Bremer's forecast on the weekend editions of the Channel 8 Eyewitness News.
Kayla loves sports, skiing, the outdoors and she's a big weather nerd. She enjoys spending time with her family and friends and when she gets the opportunity to travel, she never turns it down.