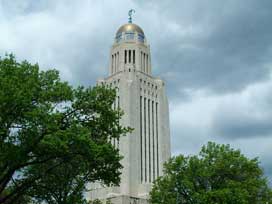 By: Rachael Witter
rwitter@klkntv.com
Nebraska's congressional delegation got a chance to address a hot topic: the federal budget deficit.
The Nebraska Legislative Summit was held at the Strategic Air and Space Museum in Ashland. Business leaders got a chance to talk about debated issues in Washington. Both democrats and republicans agree that things need to change to get the federal budget back on track.
"We have to head in a better direction. We cannot sustain trillion dollar deficit forever and we're going to all have to give and take to get there," said Republican Senator Mike Johanns.
At the end of July, the budget deficit was at $974 billion, and it's only forecasted to go up. It's expected to top $1 trillion this year. State leaders say they think taking Nebraska's approach to the economy might be a good way to approach the federal budget.
"We need to meet our challenges in a non-partisan way, putting this nation ahead of partisan agendas and the needs of the American people ahead of political parties and special interests. That's what we've done in Nebraska and that's what needs to be done in Washington," said Democratic Senator, Ben Nelson.
State leaders also say it will take time for changes to come together. They say a lot of the uncertainties surrounding budget issues will start being resolved after the election.