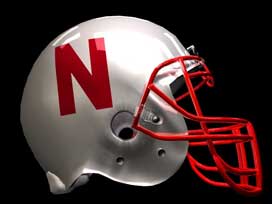 Posted by: Sports
In his three seasons as a starter, Taylor Martinez has yet to win a game in his home state of California. Standing on the sidelines of Nebraska's latest defeat, a 36-30 loss to UCLA, was their new hope for the quarterback of the future, fellow Californian Johnny Stanton.

On the eve of Nebraska's game with UCLA, Husker fans flocked to Mission Viejo High School to watch Stanton lead his team to its third win of the season.

Stanton, a 2013 Nebraska commit, completed 16-of-20 passes for 302 yards and three touchdowns. The 3-star recruit also scored two touchdowns on the ground amassing 89 yards on five carries.

Stanton's skill set draws comparisons with Jake Locker. He was recently selected as an Elite 11 quarterback which recognizes the 11 top high school competitors at that position.
"Some people were so wrong in the off season when they were saying he's an athlete playing quarterback," Santa Margarita Catholic football coach Harry Welch said after Friday's game. "He is an athlete, and he is an athlete playing quarterback, but he's a quarterback. He can throw, he can lead and he has that wonderful intangible of being a fine human being who lifts other people around him to a higher space."
"I want to be known as a balanced guy," Stanton said following the 55-0 win. "To be able to throw the ball better than a lot of people think I can. It all comes. I worked out in the off season a lot, and I don't know if it was necessarily trying to prove anybody wrong. I think it was mainly trying to get better as a football team. It did fuel me a little bit, but I don't think I would have done anything different."