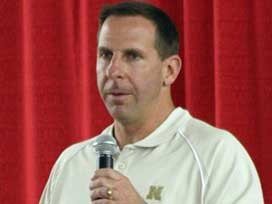 Posted By: KLKN Newsroom
8@klkntv.com
Nebraska Head Football Coach Bo Pelini issued the following statement regarding Wednesday's retirement announcement by Athletic Director Tom Osborne:
"It has been a great privilege to work under Coach Osborne. Obviously, he trusted me to lead the football program here at Nebraska and he has been a valuable resource for me and our entire coaching staff the past five years. His leadership and vision has pushed our football program and our entire athletic department forward in many areas. To me personally, he has been a great leader, mentor and friend.
"With everything he has done for this athletic department, University and the state of Nebraska, you don't replace a man like Tom Osborne. But, I have complete confidence in Chancellor Perlman and the leadership of the University that they will find the right individual to lead this athletic department going forward."