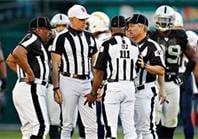 By: Dan Messineo
dmessineo@klkntv.com
The referees are back in the game. After three months, an agreement has been reached between the NFL and the NFL Referees Association.
Late last night both groups agreed to a deal, putting to rest contentious contract negotiations and growing outrage from coaches, players and fans. The two groups have a tentative 8 year agreement to get the regular refs back on the field. The referees union and NFL officials are expected to approve the deal this weekend.
The referee lockout came about after contract negotiations failed when the referees union approached the NFL for better salaries and retirement benefits.
The labor dispute came to a head this past Monday night. Replacement refs botched the last play of the game between the Seattle Seahawks and Green Bay Packers. Their decision gave the Seahawks a win. The miscall had fans around the country crying foul and demanding the return of the regular refs.
"This agreement supports long-term reforms that will make officiating better. The teams, players and fans want and deserve both consistency and quality in officiating," NFL Commissioner Roger Goodell said.
Commissioner Goodell lifted the referee ban until the confirmation of the deal. The union refs go back to work Thursday night for the Brown/Ravens games.