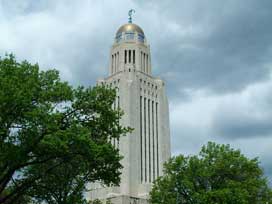 By: Rachael Witter
rwitter@klkntv.com
Some outstanding citizens were honored today by the Lieutenant Governor. These Nebraskans were honored for their dedication to serving their community, you might even call them local heroes.
Lieutenant governor Rick Sheehy presented awards to people who have trained communities to be prepared in the event of an emergency. Barry Baldwin is just one honored today, he's been a volunteer storm spotter for over 30 years.
"it's just been a lot of different things over many years that's made it really interesting and it made me feel like I could help the community by doing some of that stuff." said Baldwin.
Sheehy says these people are the reason Nebraska excels.
"Nebraska is ahead of the curve in emergency preparedness and this is an area where Nebraskans can be particularly proud. Today we honor the accomplishments of some of our outstanding citizens who have volunteered their time to strengthen emergency preparedness." said Sheehy.
Red Cross volunteers, health departments and the Scotts Bluff county emergency response team were also honored for serving their communities. Baldwin says the experience volunteering is rewarding.
"Whether it's a disaster or there's a flood watch or something like...we had a train wreck in downtown Columbus and there's people that are looking from the outside in and saying 'gosh someone needs to help us do some of that stuff' and it feels good to be able to say 'I can help and I've done something like that.'" said Baldwin.