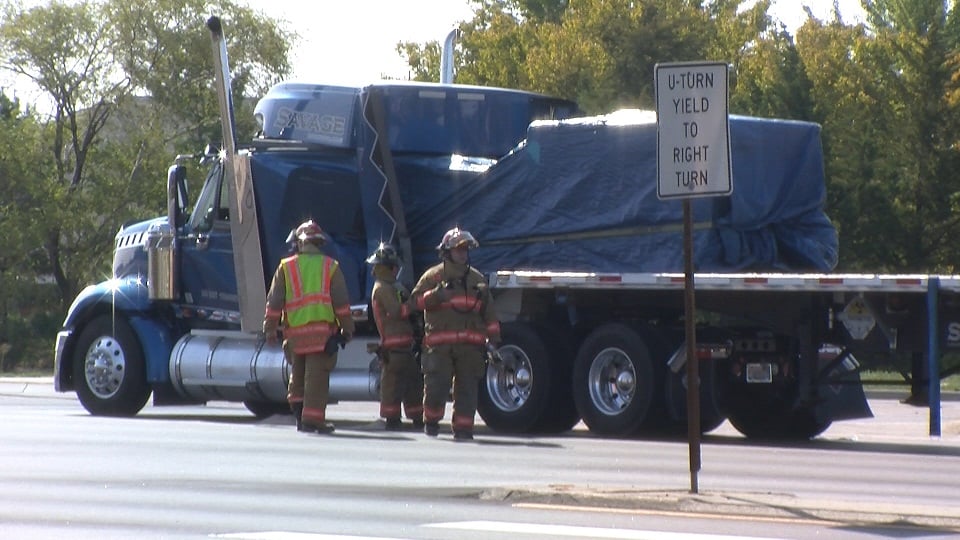 By: Kayla Bremer
kbremer@klkntv.com
UPDATE: All lanes of traffic are now open on Highway 2 after a semi-trailer leaked radioactive waste. No one was inured and police say the waste was too low of a level to harm any drivers in the area.
By: Kayla Bremer
kbremer@klkntv.com
An incident involving a flatbed semi trailer carrying low-level radioactive waste shut down the intersection of 56th and Nebraska Highway 2 for several hours on Saturday afternoon. Clean-up could leave the eastbound lanes of Nebraska Highway 2 closed for at least another hour, a Lincoln Fire and Rescue official says.
Battalion Chief Jeanne Pashalek said the flatbed truck was heading eastbound when the driver had to make a sudden stop at the intersection of Old Cheney Road and Nebraska 2 around 11 a.m. The sudden stop caused the 17,000 pound load with low-level radioactive material to shift forward into the truck's cab.
Pashalek said the driver was not injured when the load slide forward, but the driver's sleeping cab was damaged.
"The levels are extremely low-level," Pashalek said. "They do not pose a risk to anybody in the community. Right now we've called a contracting company to come with heavy equipment to reposition the load so that we can safely move the vehicle and get it out of the intersection."
Pashalek said it could take at least another hour before the eastbound lanes are reopened.
Westbound traffic on Nebraska 2 has been reopened but eastbound traffic remains closed from 56th Street to Apples Way.