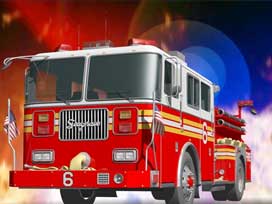 By: Dan Messineo
dmessineo@klkntv.com
House fires break out around the country over 50,000 times a year. Safe Kids Worldwide says most families don't have an escape route in their homes in case of a fire.
We're in the middle of National Fire Prevention week and St. Elizabeth Regional Medical Center is trying to get the word out that fire escape plans save lives.
Statistics show home fires are the most deadly. They account for almost 90% of fire-related deaths. Crystal Berner, who handles burn education for St. Elizabeth Regional Medical Center, says a clear escape route could mean the difference between life and death during a house fire. "By doing a fire safety plan you're getting your family together you're mapping out a route of your house for everyone to get out safely," Berner said.
The American Red Cross recommends every person in your home have 2 ways of getting out. Statistics show at least one child dies in a home fire every year. So, Safe Kids Worldwide asks parent to practice the escape plan steps with their children. They say teach them to feel if door handles are hot. Or "Get Low and Go" in case of smoke.
"This gives the parents great time to spend with their kids and discuss all these important details that are needed to talk about fire if it was to happen in their home," Berner said.
Also, have a meeting place for the family once outside. Safe Kids Worldwide says to stay out once you're out of you burning home. Then you should call 911.
You can click on http://safekids.org/ for information about planning escape routes and fire safety tips.