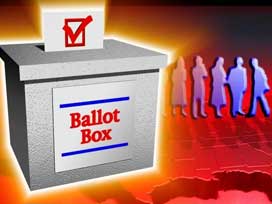 Posted By: KLKN Newsroom
8@klkntv.com
The Lancaster County Election Commissioner is projecting a record number of voters for the election.
David Shively is projecting that 129,000 of the 182,152 registered voters will cast ballots which would be a turnout percentage of 71%. In comparison to the 2008 General Election this would be an increase of nearly 400 voters.
Shively indicated that the current number of registered voters in Lancaster County is also new record. This breaks the previous record from the 2008 General Election in which 178,982 voters were registered to vote.
Shively also says his office will process a record number of Early Voter ballot requests for this election by exceeding the more than 30,000 requests that his office received for the 2008 General Election.
Anyone still interested in voting early in Lancaster County may do so, but it must be done at the Election Commissioner's office which is located at 601 N. 46th St. in Lincoln. The office is open the following dates and times through Monday, November 5th.
Thursday and Friday, November 1 and 2: 7:30 a.m. - 5:30 p.m.
Saturday, November 3: 9 a.m. - 12 p.m.
Monday, November 5: 7 a.m. - 5 p.m.