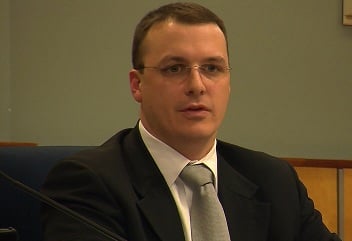 By: Cole Miller
cmiller@klkntv.com
The City Council will be short one member at their next meeting. Adam Hornung has announced he will be stepping down.
The 34-year-old is resigning to pursue what he calls a rare opportunity, and he's already given Mayor Chris Beutler the name of someone he thinks would be a replacement...


City Council member Adam Hornung won't be present at the next meeting. On Thursday, he announced he's taking a job with one of the world's largest fund managers. Hornung says it wasn't an easy decision and that he loved serving lincoln.

"The way I went about making decisions I hope is what people will look back on and say, 'He did what he was supposed to do. He thought about the decisions he was making. He thought about how they would affect Lincolnites and he thought about what was best for Lincoln and its future," Hornung said.
So who fills his shoes? Hornung recommended a familiar name to Mayor Chris Beutler, Mark Whitehead, President of Whitehead Oil Company.

"I'm honored that he thought enough of me to consider me for the position," Whitehead said.
As a small business owner, Whitehead says he and Hornung share similar beliefs. They're both conservative and concerned with job growth in the city. He believes Lincoln is in a position to prosper.

Whitehead says the city is growing at a pace he's never seen before, with more opportunities for everyone in the city and he wants to be a part of that.
"As a business person and as a person who was born and raised in the city of Lincoln and love Lincoln as much as I do and want to give back to the city of Lincoln, I think this is a great opportunity to utilize some of the skills I've got to hopefully make that happen," Whitehead said.


The Mayor's Office says they haven't made a decision just yet on who will fill Hornung's at-large seat. They'll make a recommendation to the City Council, then they'll take a vote. Hornung's term is up in May and the seat will be up for grabs come this spring.