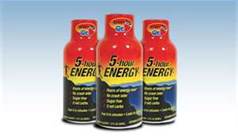 POSTED BY: KLKN Newsroom
8@klkntv.com
WASHINGTON (AP) _ The Food and Drug Administration is investigating reports of 13 deaths of people who took so-called ``energy shots'' marketed as 5-Hour Energy. The agency says it has received 92 reports about the product, including 33 hospitalizations and 13 deaths.
In a statement, FDA officials say they will take action if they can link the deaths to consumption of the energy drink. Such action could include forcing the company to take the drinks, often found at convenience store checkout counters, off the market.
The FDA cautions consumers that products labeled ``energy shots'' and ``energy drinks'' are not alternatives to sleep and that anyone thinking about taking them should consult with a health care provider. The New York Times first reported that 13 deaths were linked to 5-Hour Energy.
A spokeswoman for the company that makes the product, Michigan-based Living Essentials, LLC, says 5-Hour Energy is a "compact-sized energy shot intended for busy adults — it is not an energy drink, nor marketed as a beverage."
Elaine Lutz said the company is not aware of any deaths proven to have been caused by their product. She said the company's website advises consumers to drink no more than two bottles of the shots per day, spaced several hours apart, and for new consumers to drink half a bottle to start.