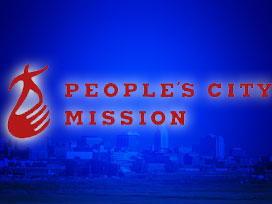 By: Brittany Paris
bparis@klkntv.com

The holidays can be a stressful time of the year, especially for those struggling to make ends meet. Thanks to the People's City Mission, everyone could enjoy a Thanksgiving feast.
Families and friends in need came together at the People's City Mission for a much appreciated holiday meal. Volunteers served up yams, green bean casserole, mashed potatoes, stuffing, and of course...turkey.
Ivory Hale has spent the past two Thanksgivings at the mission. And he's thankful for the food.
"But I think to be here and to have a good Thanksgiving meal...we are all blessed," Hale said.
The Mission expects to serve about 300 meals. Meals that wouldn't be possible without some help. Governor Dave Heineman and First Lady Sally Ganem have volunteered there for the past eight years.
"Oh the role we're playing is really a supporting role in being helpful and contributing to this event," Ganem said.
And for some volunteers, this year was their first. Like these sisters. "I, I've never done it before so I guess I feel awesome!" "I've always been privileged to have a roof over my head and food to eat, so, um, to see these kind of people and to help them out feels really good."