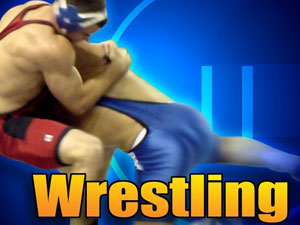 Posted by: Sports
Just two days after hosting their first dual of the 2012-13 season, the Bulldogs were back in action at the 13-team Simpson College Invitational on Saturday. Concordia senior Frank Ayala earned a sixth place finish in the heavyweight bracket to headline the day in Indianola, Iowa. As a team, Concordia finished 10th with 43.0 total points.

The Simpson Invite featured several top NAIA and NCAA Division III teams, including the NAIA's top-ranked team in Grand View (Iowa), which boasts three No. 1-ranked individuals. NCAA Division III No. 1 Wartburg (Iowa) and No. 4 Coe (Iowa) also took part in the loaded tournament at Simpson College.

"We ran into some tough competition again," Bulldog head coach Dana Vote said. "It showed our youth and some of the old mistakes that continue to show up. We're improving and getting better all the time, but we still have a lot more room for improvement."

Ayala (8-6) took sixth place thanks to consecutive victories in the consolation bracket at 285. Following a 6-2 win over Coe's Cory Becker in his first match, Ayala was sent to consolation round two after being pinned by Grand View's Eric Thompson in 1:35.

But the West Covina, Calif., native rebounded with a pin of North Iowa Area Community College's Alex Stockton in 4:07 and then a 3-1 overtime decision over Glenn Cothren of Iowa Lakes Community College. Ayala then lost his final bout by an 8-3 score to Central Missouri's Zotaih Tuaquoi with a trip to the consolation final match on the line. The sixth place finish marks Ayala's second tournament placing this season on the heels of a fourth place finish at the Swede Open on Nov. 10.

"Frank's improving each day," Vote said. "We also know that he has a long ways to go, but he is certainly making good strides. He's a guy who can keep on improving."

Freshman Austin Starkey (6-4) won three of his five matches on the day at 157. He picked up a pair of major decisions and pinned Coe's Dylan McLaughlin in 2:24 for the second pin of his young collegiate career.

Bulldog junior Seth Crane (184) pushed his season mark to 7-6 by splitting his four matches at the Simpson Invite. He put forth perhaps his most impressive performance in a 4-2 defeat up against Basil Minto of North Iowa Area Community College. Minto went on to capture the individual title at 184.

A total of nine wrestlers represented Concordia in competition on Saturday. Alex Stepanek (133), Chandler Brandert (141) and Kale Hintz (174) also recorded at least one victory apiece on the day. The Bulldogs' eight pins were the fifth most among the 13 teams at the Invite.

Grand View posted a team title at the event with 223.5 points compared to 158.5 for second place Wartburg.

Vote will return to his alma mater next Saturday as the Bulldogs compete in the Buena Vista University Open in Storm Lake, Iowa. The action will begin at 9 a.m.