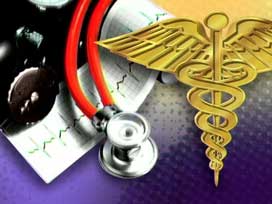 By: Dan Messina
dmessineo@klkntv.com
A University of Nebraska Medical Center study found that Nebraska is lacking in primary care physicians. Eleven of 93 counties in Nebraska don't have a primary care physician and all of those 11 counties are rural areas.
Dr. Stimpson, the co-author of the report said rural counties see the most dramatic shortage. "The number of primary care physicians in Nebraska is 30 percent lower than previously reported by the American Medical Association and rural area are hit hardest," Stimpson said.
There are 1,410 primary care physicians in Nebraska. Dr. Stimpson said it's alarming because the state will need 1,685 by 2014 to meet the demand brought about by healthcare reform.
Another concerning statistic exposed by the study is that physicians older than 65 have grown by 78 percent over the past five years. These physicians will soon be retiring which will also add to the state's shortfall.
The study also found an increase in ethnic diversity among Nebraska's physicians and women now make up a higher percentage of primary care physicians than men.