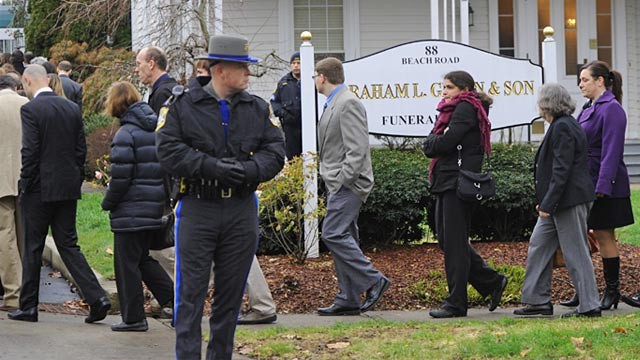 By: Newsroom
8@klkntv.com
The first funerals were held today for the young victims of the shooting at Sandy Hook Elementary School in Newtown, Connecticut.
A funeral was held for 6 year old Noah Pozner who was eulogized as a boy who liked animals, video games and Mexican food. He use to text he worked in a taco factory. Inside, his mother shared stories that had everyone in tears.
"When she told him I love you, his answer was: not as much as I love you," Rabbi Edgar Gluck said.
A few miles away, there was another funeral. Jack Pinto, also 6, was a big sports fan. His favorite New York Giants player, Victor Cruz, wore his name on his cleats during Sunday's game.
At a new conference, the normally stoic state trooper who's been briefing reporters choke up when asking for privacy for the families. He also revealed that there were actually two adult survivors of Friday's rampage, not one. Both female school employees had gunshot wounds.
"Investigators will in fact speak with them when it's appropriate and certainly they will shed a great deal of light on the factual circumstances of this tragic investigation we're undertaking," Lt. J. Paul Vance with the Connecticut State Police said.
With the school itself remaining a crime scene - perhaps for months - police said Monday that 75 to 100 volunteers are now fixing up an unused middle school in the next town over.
Source: ABC News