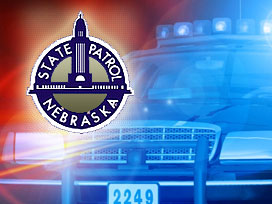 Posted By: KLKN Newsroom
8@klkntv.com
(Brunswick, Neb.)- A Nebraska State Patrol trooper is injured and a suspect is shot after a disturbance in Pierce and Antelope Counties.
The Nebraska State Patrol says just before 11:00 a.m. on Tuesday, troopers were called to assist Pierce County deputies in disturbance. The patrol says a man was creating a disturbance after being turned away from a school. The man had been attempting to remove his children from the facility.
The State Patrol says the 38-year-old man, who was driving a semi-trailer truck, left the school and drove to a convenience store in Plainview, where he threatened to harm to himself and others. They say he then drove to his farm near Brunswick where he set fire to the semi. The suspect then got behind the wheel of a red farm tractor and proceeded to ram outbuildings, a vehicle and several fuel tanks on the property. The suspect then drove the tractor across a field to another farm house where he damaged outbuildings on the property.
The State patrol says the suspect attempted to run into a Pierce County Sheriff's unit, before using the tractor to ram a Nebraska State Patrol unit responding to the scene. A trooper in a second unit fired at the tractor striking the suspect. The suspect then gave himself up and was taken into custody.
The trooper, whose patrol car was rammed, suffered a cut to his head and was transported by ambulance to a hospital in Creighton. The suspect's name has not been released. He was taken by ambulance to the Plainview hospital and then flown by medical helicopter to Mercy Medical Center in Sioux City, IA, where he is being treated for a gunshot wound to his right side.