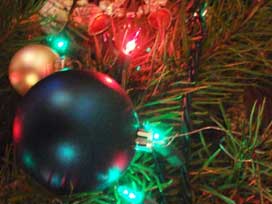 By: Megan Palera
mpalera@klkntv.com
A homeless Lincoln veteran and his family get a new roof over their heads just in time for the holidays.
Santa Clause traveled all the way from the North Pole to bring an early Christmas to the Mogensen's. Presents were brought in one by one and stacked high thanks the Combat Veterans Motorcycle Association, or CVMA.
"The presents are nice but for me it's really about being able to help somebody and just letting people know that other people still think about them and that they're cared about," CVMA PR Officer Ty Boyer said.
Joseph Mogensen is an army veteran who lost his job earlier this year. Unable to make rent, his family was forced to move into the People's City Mission. They stayed for five months until the VA hospital helped them find a new home. And the Motorcycle Association helped them find furnishings.
"We have 4 bedrooms, 3 levels - it's great! Backyard. The kids are very happy here," Joseph's wife, Wendy said.
Now with a fresh start, new home and new friends, the Mogensen's fell truly blessed this Christmas.
"It's nice to know that stuff like this can and still does happen in today's society," Joseph said.
"Made my kids have a great Christmas now. It's just made it wonderful," Wendy said.