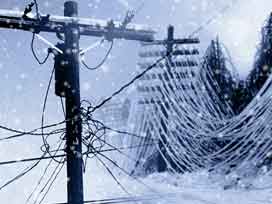 Posted By: KLKN Newsroom
8@klkntv.com
Lincoln Electric System crews have restored power to the majority of its customers who lost service when a storm combined heavy, wet snow with strong winds over parts of Lancaster County. As of 7 a.m. today, all area power outages were addressed. Crews are focusing efforts on a few individual customer reports remaining. Thousands of LES customers lost power during the night.
"We appreciate our customers' patience as we restore service," Dan Pudenz, LES vice president of Energy Delivery said. "We urge customers to stay clear of any downed lines and debris, and ask drivers to use caution when approaching utility crews on slippery roads."
As a reminder, customers own the electrical equipment on their homes. If their equipment is damaged, customers will need to contact an electrician for repair work before service can be restored. Additional information on storm safety and power restoration can be found on LES' web site at www.les.com.
To report a power outage, call the LES PowerLine at 1-888-365-2412.