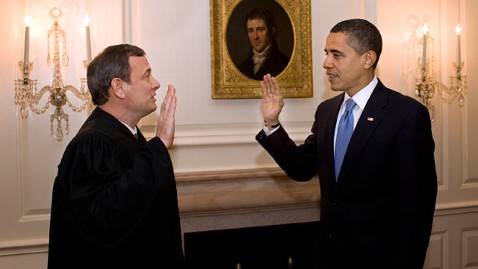 By: Channel 8 Newsroom
8@klkntv.com
President Obama was officially sworn in for his second term Sunday in a private ceremony in the Blue Room of the White House presided over by chief justice John Roberts.
The Constitution mandates the President be sworn in by noon on January 20, but Monday there will be a ceremonial swearing-in and inaugural address followed by the traditional parade and inaugural ball.
President Obama was surrounded by only close family at the White House for the official swearing-in.
The intimate setting officially began his second term. And was a far cry from President Obama's 2009 event where 1.8 million people packed the National Mall to see the first African-American President take the Oath of Office.
But the hope of four years ago has been tempered by the challenges the nation is still facing. The sluggish economy and stubborn unemployment rates give voters a lack of confidence in Washington.
Senior White House Officials said the President's Inaugural Address will lay out his vision for the next four years.
The Inauguration festivities stretched out over the long weekend with Vice President Biden being sworn-in four hours before the President by Sonya Sotomayor, Supreme Court Justice.
The two then laid a wreath at Arlington National Cemetery.
The Obama family later attended services at one of Washington's most historic black churches.