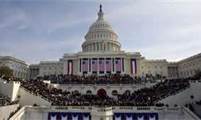 By: Dan Messineo
dmessineo@klkntv.com
If you take your eyes away from the main action of Inauguration Day, you'll see a lot of security; 13,000 personnel to be exact. Snipers on rooftops, Coast Guard on the water and military fighter jets are just a few parts of the security team keeping the day running smoothly.
Secretary of the Department of Homeland Security, Janet Napolitano said keeping the President safe, not to mention the hundreds of thousands in attendance, is a big job. "Protecting an event this large, complex, with this many different venues, with this number of people coming, requires a lot of coordination and organization," Napolitano said. The nerve center of the entire operation is the "Multi-Agency Communication Center." From an undisclosed location, the Secret Service will monitor all surveillance.
Not only is security a concern, there's also the logistics of packing hundreds of thousands into the National Mall. Organizers have learned from 2009, when many ticket holders got stuck in a tunnel. Chief of the Metro Police Department, Cathy Lanier, said this year won't be like 2009. "They'll be such a different feel when you come down this time for the inauguration. There is extensive signage. There are way finders," Chief Lanier said. But who needs signs when you have an app? The app tells inauguration goers everything they need to know for the big day and has a bunch of maps which include the parade route.
If President Obama decides to get out of his limousine and walk part of the parade route, like he did in 2009, undercover officers and SWAT teams will be watching his every move to keep him safe. The FBI said there are no threats for Inauguration Day.