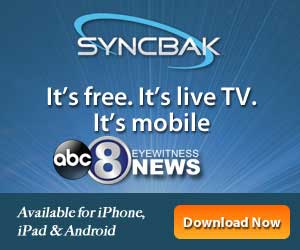 Channel 8 KLKN-TV has partnered with Syncbak so that you can watch us on your iOS and/or Android mobile device. Watch all Channel 8 Eyewitness News live broadcasts from morning to midday to evening, or you can watch when you want to "On Demand". Just go to the iTunes or Android app stores and download the FREE Syncbak app.
Once you download Syncbak, you can select the Channel 8 KLKN-TV icon to watch available live or archived programming using a wireless connection or anywhere you get mobile service within the Channel 8 KLKN-TV viewing area (Lincoln, Hastings & Kearney, NE DMA). Data rates may apply, so please refer to your provider's phone contract for costs. In order for this app to work using your phone service, you must also have the GPS activated. This does not apply if you are using a wireless network.
Available on both iOS, Android and Kindle Fire!
iTunes Google Play
Click to Download App Click to Download App
Or click on a link below
https://play.google.com/store/apps/details?id=com.syncbak.syncplayer
https://itunes.apple.com/us/app/syncbak/id489187002?mt=8
Below is the link to the Kindle Fire app
We'll add more of the program schedule as we acquire the rights to mobile broadcast of our programming. We do not have permission to broadcast ABC programming at this time.
If you travel out of the viewing area, you will not be able to view Channel 8 KLKN-TV, but may see the local stations in that area.