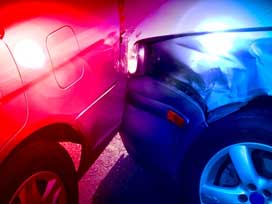 By: Channel 8 Newsroom
8@klkntv.com
OMAHA, Neb. (AP) Police said a 60-year-old Omaha woman died when a speeding Cadillac smashed into her compact car.
The two-car accident happened shortly after midnight Sunday in Central Omaha on Saddle Creek Drive near Poppleton.
Police said Betty Warren was killed in the crash.
A Cadillac driven by Raysean Barber, 23, was speeding southbound when it veered into oncoming traffic after striking a curb.
Warren's Chevy Aveo struck the right rear fender of the Cadillac and suffered fatal injuries.
Barber suffered a fractured neck and brain bleed, but his injuries are not considered life-threatening.
A passenger in Barber's car, Kody Koch, 24, suffered only minor injuries.