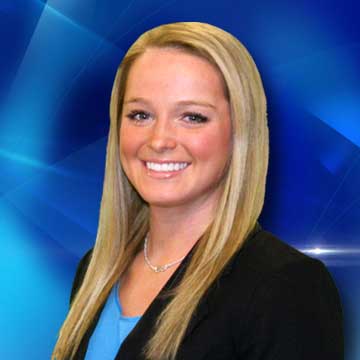 Brittany grew up in the Chicago suburb of Wood Dale, Illinois. One of her earliest memories is sitting around her grandma's kitchen table watching the news and General Hospital. In 2012, she and three friends received press passes to the 25th summit of NATO, which was held in Chicago. After spending 24 hours witnessing the event with supporters and protesters, she thought, "Wow, I want to do this forever."
Brittany graduated with a BA in Communications Studies from DePaul University. While at DePaul, she interned at WMAQ, Channel 5 in Chicago and was a reporter and anchor for the DePaul student newscast, "Good Day DePaul". Brittany came to Channel 8 Eyewitness News in 2012. "I have the best job in the world", says Brittany. "I'm challenged daily and love how fast-paced my days are" she adds. She enjoys meeting new people and being able to share stories with others.
Brittany really wanted to be a singer/songwriter when she was younger. She says that her co-workers have even heard her songs and says they would agree that her songs could be hits. When people find out that she's from Chicago and she's asked Cubs or Sox?, Brittany proudly admits that she is a Cub fan. Her large extended family is very important to her and when she's not working she enjoys, reading, working out and learning to cook, she puts the emphasis on "learning".