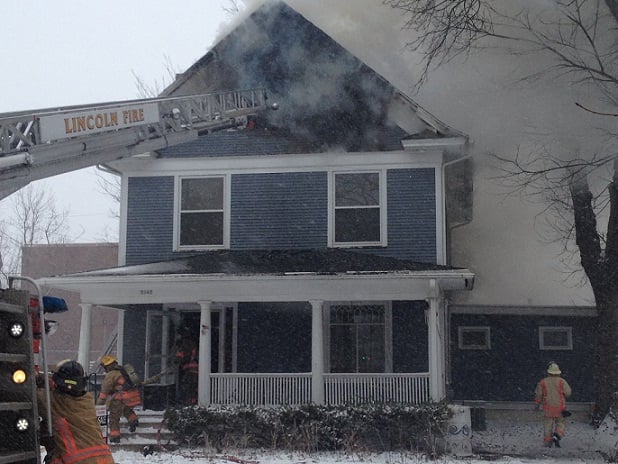 Posted By: KLKN Newsroom
8@klkntv.com
Firefighters battled a blaze in the Near South area of Lincoln.
One man and two dogs are rescued from a house fire Thursday afternoon near 20th & Euclid. Fire officials say the man was actually trying to rescue one of the dogs when he suffered from smoke inhalation.
The fire broke out at around 1:30. Firefighters say it was contained to the third floor, but more units were called into due to the size of the home. The weather played a big role, firefighters say response time was slowed due to snow and attacking the fire from the roof made things difficult.
"We got the hole cut to allow the smoke and the heat out as quickly as we could. Even by the time we got up there, there was already a part of the roof that had collapsed. And so, we spent very little time up there today because of the snow, steepness of the roof and the height," Assistant Chief Pat Borer said.
Again, two dogs were rescued from the home and one man was taken to the hospital. Firefighters say they aren't sure how many people live in the home. Fire investigators are still looking for a cause.