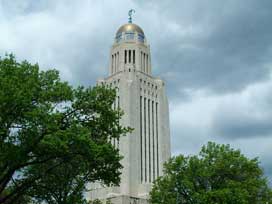 By: Brittany Paris
bparis@klkntv.com
A long stream of supporters took their turn telling members of the Health and Human Services Committee why funding for a bill that would extend Medicaid coverage in Nebraska is needed.
Sen. Kathy Campbell's measure would extend the coverage to more than 54,000 uninsured Nebraskans.
The bill comes after the Supreme court ruled the Federal Government cannot withhold funding from states who choose not to expand Medicaid.
"We must ensure that all Nebraskans have access to healthcare coverage," Rowen Zetterman, Former President of Nebraska Medical Association, said.
Gov. Dave Heineman opposes this bill and other opponents said the expansion will come at the taxpayer's expense.
"We're opposed to this bill because we don't believe it's fiscally sustainable and Nebraska simply can't afford it," Vivianne Schaumont, Division Director for Medicaid, said.
The governor said if this bill passes, money used to fund it will raise taxes and force cuts to education. Supporters said without it, there will be a huge gap of uninsured Nebraskans.
The bill still has to make it out of committee before it can be debated on the legislative floor.