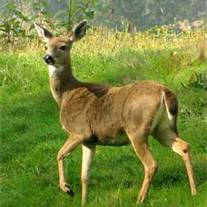 Posted By: Dan Messineo
dmessineo@klkntv.com
The Nebraska deer population has taken a hit due to the crippling drought and a disease outbreak. It's caused a decline in the 2012 deer harvest.
The Nebraska Game and Parks Commission said a deadly combination of drought and disease significantly reduced Nebraska's whitetail deer population. Games and Parks' big game program manager, Kit Hams, said the state hasn't seen population numbers this low in ten years.
The dramatic decrease prompted Game and Parks to reduce the number of antlerless permits, causing hunters to harvest fewer deer. The 2012 deer harvest in Nebraska fell about 30% to 60,548. Hams said most herds will rebound but expect to wait 4 or 5 years. He said the loss of habitat due to drought and wanting to keep deer populations at an acceptable level for landowners will keep "deer numbers well below those seen the past few years."
The Nebraska Game and Parks Board of Commissioners will consider recommendations for the 2013 deer population later this week in Kearney. One recommendation that will go before the board is a reduction in deer permits.