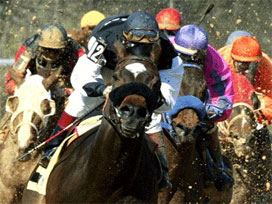 Posted By: KLKN Newsroom
8@klkntv.com
LINCOLN, Neb. (AP) _ A measure to allow gamblers to bet on old horse races has moved one step closer to voters.
Nebraska lawmakers voted 29-19 on Wednesday to advance a constitutional amendment by Sen. Scott Lautenbaugh. The proposal would allow race tracks to install horse betting video terminals, if it's approved by voters.
The amendment would appear on the 2014 ballot. It first must advance through two more votes.
Gov. Dave Heineman vetoed a similar bill last year, but he can't veto constitutional amendments. Supporters of the proposal say the terminals would increase revenue for the declining horse racing industry. Opponents say the proposal would increase gambling problems.
Sen. Ernie Chambers attempted to filibuster the proposal, but supporters forced a vote after eight hours of debate.