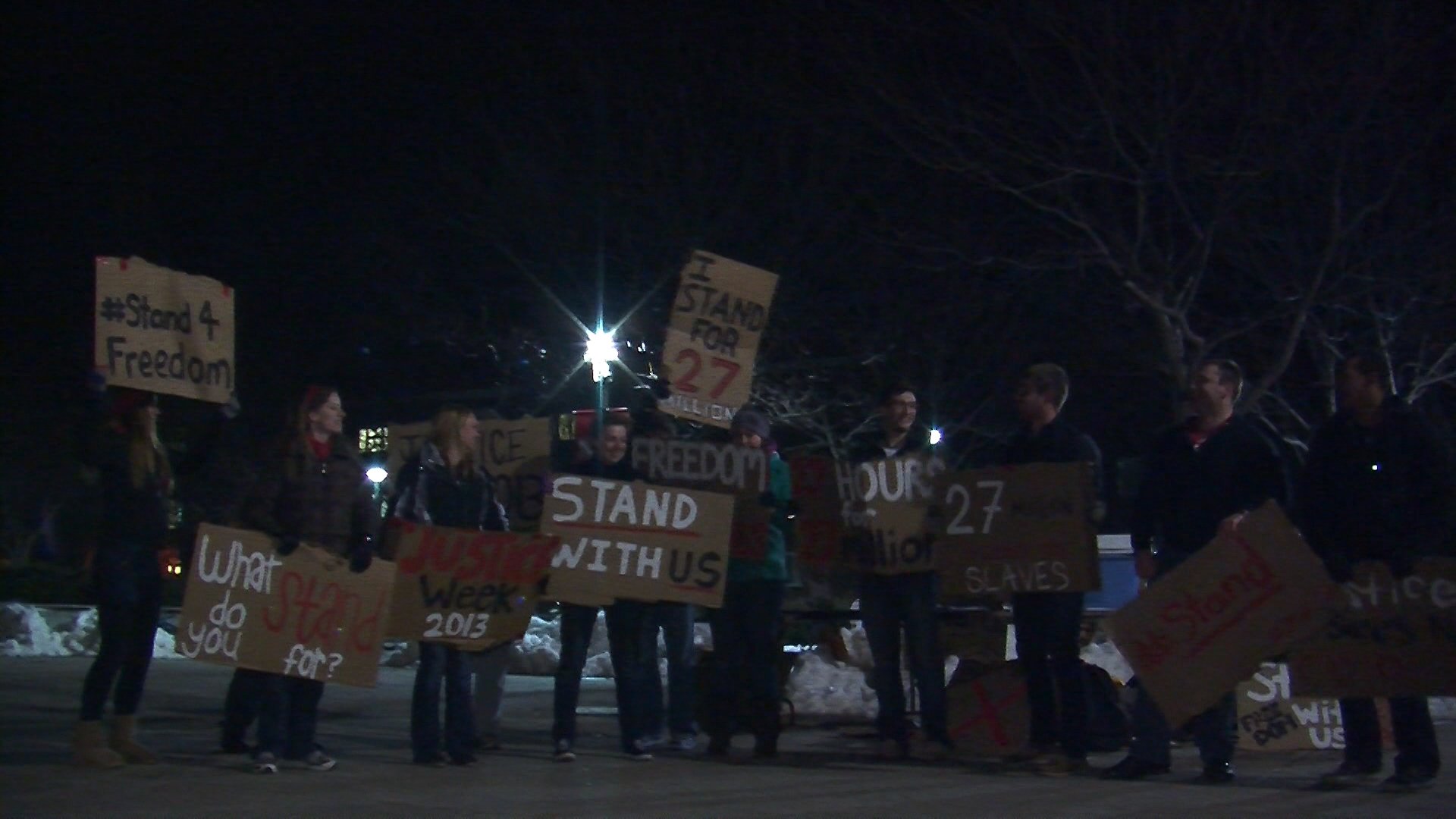 Posted by: Dan Messineo
dmessineo@klntv.com
A group of dedicated UNL students say they're hour 13 into a 27 hour rally. They're braving the elements, and sleep deprivation, for the 27 million people enslaved around the globe. Nicholas Schreiner said standing out in the cold is nothing compared to suffering as a slave. "They're going through things much worse, much more than the human mind can even imagine. Taking that into context, just 27 hours and it's a little bit cold. Nebraska gets cold all the time, it really doesn't compare," Schreiner said.
International Justice Mission is the human rights organization challenging students around the country to "Stand for Freedom." It's a 27 hour rally, representing the 27 million people enslaved for work or sex. The UNL students' mission is a simple one: they want to spread the word about this human tragedy and to demand action from our lawmakers. The event organizer, Melissa Olson, said even Washington D.C. will hear about it. "They're going to collect all these signatures and send them to President Obama with a petition letter. To just get some stricter punishments for the people trafficking the girls," Olson said.
Melissa said they're hoping to collect 1,000 signatures by the end of the 27 hour rally. This problem also hits very close to home. Melissa said I-80 is a major pipe line for sex traffickers and she wants to put an end to it. "It's just been something that I'm really passionate about and something that I don't think a lot of people are aware of. So, just spreading the word for people, just getting other people to rally against it because this needs to be stopped," Olson said.
The 27-hour stand in Union Plaza will end at 1:00 p.m. Thursday afternoon. There has been some mention of human trafficking in our state legislature. Lincoln Senator Amanda McGill is proposing to add "human trafficking of a minor" to the definition of child abuse.