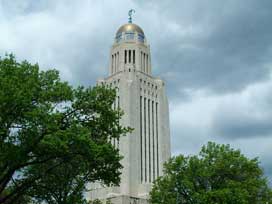 By: KLKN Newsroom
8@klkntv.com
Nebraska takes a major step forward in jump-starting the state's economy.
The first trade office in China officially opened on Monday, offering the state's goods to the other half of the world.
Gov. Dave Heineman held a news conference to make the announcement.
He invited business leaders from Nebraska and video chatted with leaders from Shanghai.
The governor said this deal will help spark new investments for the state.
"This is an opportunity for us to sell Nebraska products over in China or Asian market," Heineman said. "This is a relationship building office that's very important to our business. It's very important we have a day to day presence over there with this China office."
The business is called Nebraska Center China.
The office will assist with trade promotions between the two countries and open more opportunities for Nebraska businesses to expand globally.