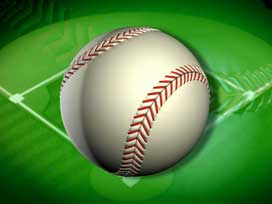 Posted By: Sports
FORMER HUSKER HURLER MICHAEL MARIOT IS ONE STEP AWAY FROM THE BIG LEAGUES...
HE WILL OPEN THE SEASON IN OMAHA WITH THE STORM CHASERS...
IT'S BEEN SEVERAL YEARS SINCE MICHAEL MARIOT FANNED BATTERS IN HAYMARKET PARK...BUT HUSKER FANS WILL GET THE CHANCE TO REMINISCE ON THAT TIME THIS COMING SUMMER.
MARIOT WAS CALLED UP TO THE OMAHA STORM CHASERS, THE KANSAS CITY ROYALS TRIPLE–A CLUB, LATE LAST SEASON...AND CAN'T WAIT TO RECONNECT WITH WHAT HE SAYS ARE THE BEST FANS IN THE COUNTRY.
AND HE STILL KEEPS IN TOUCH WITH HIS OLD HUSKER TEAMMATES...
MARIOT HAS BOUNCED BACK AND FOR BETWEEN BEING A STARTER AND RELIVER FOR MUCH OF HIS CAREER.
THIS SEASON HE'LL START IN THE BULLPEN, BUT HE KNOWS WHAT HE HAS TO IMPROVE UPON IN ORDER TO REACH THE BIG LEAGUES...