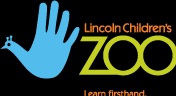 By: Rachael Witter
rwitter@klkntv.com
The 2013 zoo season is just days away! this year at the Lincoln Children's zoo there's a few new critters and some updates to a few buildings.
"What's really awesome is we're kicking off lots of things this weekend and the season's just gonna grow more and more is going to happen. We've got some great remodelings down at the hive, which is a great place where animals creep crawl and fly and kids get to get really close with them down at the hive." said CEO John Chapo.
The finishing touches are being put on new murals that line the walls of the Animal Kingdom building...exposing kids to even more new animals...like a red panda and a tomato frog.
"Kids can learn in a really fun different kind of way and they're gonna encounter new animals because we want kids to learn firsthand when they learn firsthand, they take that knowledge, they own that knowledge and they grow and they take care of animals." said Chapo.
A new series of videos starring Larry the Cable guy will be on screens throughout the zoo, the educational videos will also be distributed to children's hospitals all over the country. "The purpose of the Zoofari videos is to engage children, we can make videos with John but nobody really knows or cares about John, everybody loves Larry the Cable Guy, he's so fun to watch." said Chapo.