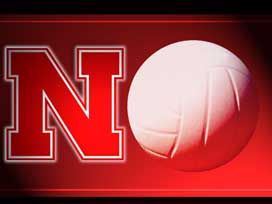 Posted by: Sports
The Nebraska volleyball team completed the 2013 spring season on Saturday with a 3-1 (22-25, 25-17, 19-25, 21-25) loss to Wichita State. The two teams played an extra fifth set of exhibition that the Huskers won 15-12.
The Huskers were led by Kelsey Fien on the day as she notched 14 kills on 37 swings. Amber Rolfzen tallied 10 kills on 32 swings, while Meghan Haggerty had nine kills and Morgan Broekhuis and Alexa Strange both had seven kills. Strange paced the Husker offense with 45 assists, while Kelsey Robinson led NU defensively with 28 digs and Hayley Thramer tallied seven total blocks.
Nebraska hit .154 for the match, while Wichita State hit .182. The Shockers out-dug NU 76-74, however the Huskers out-blocked WSU 16-12.
Source: UNL Sports Information Department