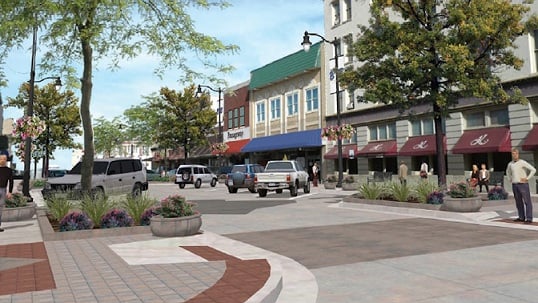 By: Cole Miller
cmiller@klkntv.com
The city of Beatrice is getting a bit of a makeover this spring. Some businesses are a little upset, however.

A stretch of North 5th Street between Court and Ella Streets is getting a facelift. Beatrice City Administrator Tobias Tempelmeyer says the renovation is part of a grant from the Nebraska Department of Economic Development.

"Without the grant, this type of project would not have been possible," Tempelmeyer said.
"We don't have an extra $400,000 in the budget to go do a project like this."
He says the grant covers $350,000 of the total bill.
However, not everyone is exactly thrilled about the idea.

"I knew it would be a struggle but I guess I didn't realize quite how much they were actually going to do to the street," Jim Hill said.
Hill owns a furniture store along North Fifth Street and says business has slowed down. He's hoping the finished product will draw in a crowd to make up for the loss.

Tempelmeyer says the whole thing should be completed the first week of July. Additions will include updated walkways and concrete, large plant holders and eventually a historic clock.
Tempelmeyer hopes this is just the beginning of further redevelopment in the area.
"We have a blueprint here we can use on other streets and carry the same theme, plan throughout the downtown area."
Tempelmeyer says the city is also looking at moving Highway 136 one block south.